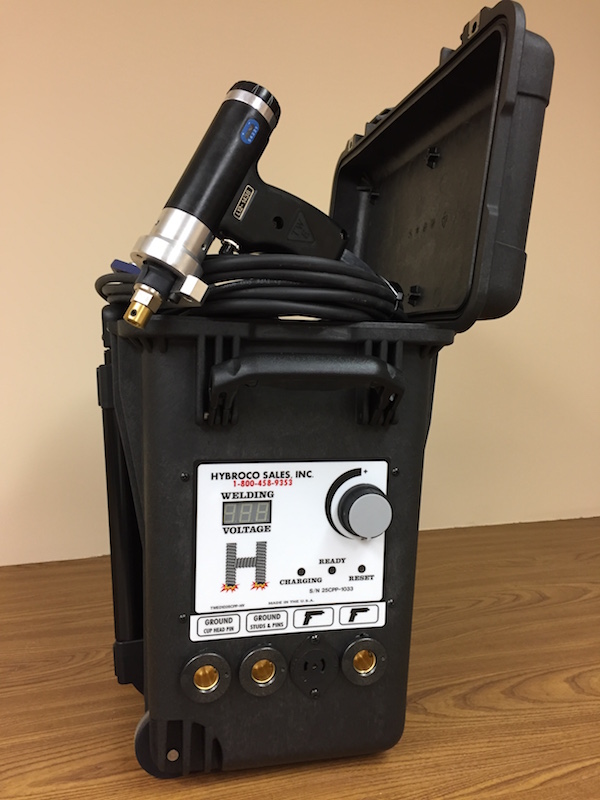 We have been providing stud welder rentals and weld studs to our clients for over 30 years. Our customers have come to rely on our expertise and quick response for their time critical stud welding requirements. Often with only hours of notice, we have delivered to jobsites with multiple rental units, back-up equipment and stand by technicians to make sure the operation is completed on time.
Hybroco Sales, Inc. has rental equipment for any stud welding application. Whether your need is in house or a field stud welding application, the equipment can be delivered ready to use for your individual requirements. Our rental fleet is capable of welding studs/pins up to 1" in diameter. Machines are ready to ship upon receipt of order.
Stud welder rentals offer several advantages:
Save money by using your own people instead of contracting out your stud welding work.
Save time by stud welding rather than welding by hand.
Gives you the opportunity to try stud welding before purchasing equipment.
Stud Welders available:
Capacitor discharge stud welders- equipment welds up to 3/8" in diameter. Uses 110 power.
Arc stud welders - equipment welds up to 1" in diameter. Uses 208-480 single/three phase power.
Field stud welders - equipment welds up to 1" in diameter. Uses diesel powered generator (provided).
Additional Equipment:
We also have several other tools available for rent. Sheet metal equipment, pneumatic hog ring tools, pneumatic rivet and rivet nut tools, tone wrenches (tension control structural bolt application tool) and more. Please call or email for more information.