Item # SF10-BBM15121
PROFERRED 100 MINI CLEAR LENS AS&AF 12 PACK
$2.2925 / PACK
Minimum Order Qty: 1
Case Qty: 12
Log in to see if custom discounts apply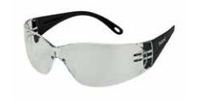 *Product may vary from image, confirm details to avoid restock charge.

Click image to enlarge
Item # SF10-BBM15121
PROFERRED 100 MINI CLEAR LENS AS&AF 12 PACK
Designed for smaller facial sizes - ideal for women.
Economical lightweight glass offers superior protection.
Optically correct and distortion free lenses.
Offering protection against high speed particles at extremes of temperature, -5?C~55?C.
UV 400 lenses provide maximum protection from harmful UV-A and UV-B rays.
Offers highest available impact protection, which meets or exceeds ballistic fragmentation impact standards per MIL PRF-32432, Clause 3.6.3.
×
*Product may vary from image, confirm details to avoid restock charge.